We spoke to Dr. Zaeem Zia, the District Health Officer currently heading the mass vaccination efforts in Islamabad, about his Fulbright experience, the crucial work he is doing, and so much more…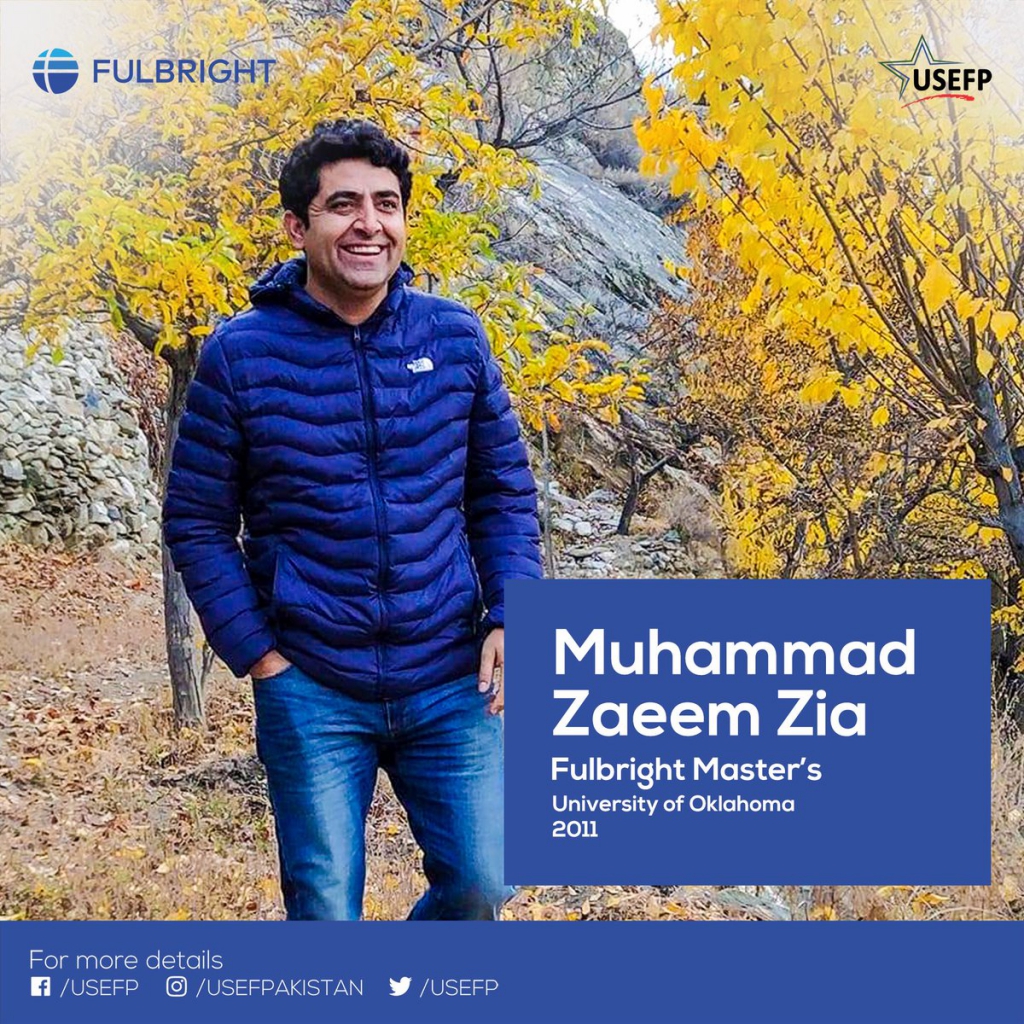 What led you to apply for the Fulbright Program?
As a student, I always wanted to study abroad because growing up I interacted a great deal with foreigners and tourists, which was a source of happiness for me. I heard countless stories from tour guides and tourists, and those sparked within me a desire to study abroad. When I finally graduated, I started looking for opportunities and came across the Fulbright program. What's amusing is that I submitted my application merely thirty minutes before the deadline!
There were multiple reasons why I applied for the Fulbright. The first and foremost reason was to gain knowledge and skills in a diverse and a competitive environment. Diverse cultures and ethnicities have always intrigued me, so Fulbright seemed to be the perfect platform for me. Another contributing factor was the opportunity to be a part of a state-of-the-art university and honing my skills there. I wanted to experience it for myself and then disseminate that knowledge to future generations of my country.
Tell us more about your academic experience as a Master's student at the University of Oklahoma.
 This was one of the most interesting events of my life. My experience at the University of Oklahoma in terms of learning, research, and attaining a better understanding of health is unparalleled. It was an entirely unique experience and I greatly value the interactions with professors, students, colleagues and friends. The exposure to a multi-cultural environment was wonderful.
As an ambassador of the country I represented, I not only learned from the people there, but I also taught them all I knew. Being able to study abroad and to acquire a degree gave me immense satisfaction and happiness. Needless to say, it was one of the most exhilarating and insightful experiences of my life. It also enabled me to have a better understanding of healthcare systems. There was constant comfortable interaction between professors and students which led to a better understanding of how a system flourishes.
As the District Health Officer (DHO) Islamabad, we hear you're heading the mass vaccination efforts there. Could you tell us more about that and the work you're currently doing?
I have been leading COVID-19 operations in the Federal capital territory. This includes surveillance, contact tracing and vaccination in coordination with the National Command Operation Center and the Ministry of Health. We are lucky that we are ahead of all the districts and provinces in Pakistan. In fact, we are on the verge of becoming the first fully vaccinated and safest city in Pakistan.
I strongly believe in Khairun aas mai'n yanfa'un Naas, which roughly translates to: the best among you is the one who benefits people. The District Health Office deals with drug-related pharmaceuticals, pharmacies and medical stores across Islamabad and functions as a district licensing authority. We ensure that all the necessary medication and vaccines are available in the premises and there are no shortages. The DHO, in coordination with the Health Regulatory Authority, makes sure that no quacks are allowed to operate in the city.
Moreover, in addition to COVID-19, I have also been working to eradicate polio and dengue. There are significantly fewer cases of dengue since I became the DHO of Islamabad. Regulating restaurants, ensuring their hygiene and sanitation also falls under my office.
How do you think your time in the United States impacted your professional journey?
It has impacted me on multiple levels, such as understanding health systems, honing interpersonal skills, taking on leadership roles, devising strategies, and managing human resources during a difficult time. Given the limited resources, our response to the pandemic has been extraordinary. It will help me in the future as well as it has engrained in me certain responsibilities. I believe that having a sense of responsibility is more important than responsibility itself. People know responsibility but lack the sense of responsibility. My U.S. education has greatly helped me manage things today, along with my brave team members.
Any advice for returning candidates who want to become positive agents of change like yourself?
 All Fulbright returnees should remember that one person can make a huge difference, irrespective of their profession. It is your dedication and perseverance that makes a difference. Put all of your heart into what you want to achieve. You may face many problems in your path but standing firm and not giving up is the way forward. If you are committed, people will eventually stand with you no matter what you choose to do.