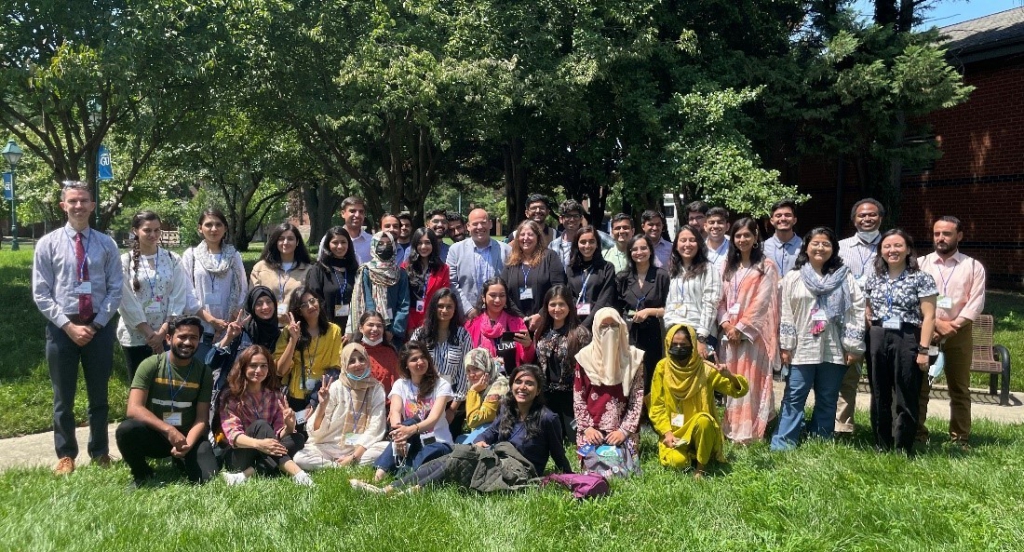 Forty-eight Global UGRAD students arrived in Washington, D.C. on August 2 for the first in-person Welcome Workshop of the program since January 2020. It was held at Gallaudet University before the participants traveled to their U.S. host colleges and universities – a total of 39 host institutions in 24 states.
The workshop featured sessions on leadership and cultural adjustment, a welcome luncheon at the Embassy of Pakistan with the ambassador, and inspirational remarks from Ethan Rosenzweig, the Deputy Assistant Secretary (DAS) for Academic Programs at the Bureau of Educational and Cultural Affairs. DAS Rosenzweig stayed through lunch on the final day to connect with each of the participants.
This year's cohort is 60% female and represents every province in Pakistan. The selected students are from 27 public and private universities.
PDO in Islamabad before departure
Before leaving Pakistan, the selected students were invited to a two-day pre-departure orientation (PDO) in Islamabad to learn about campus life, American culture, and visa and travel requirements.
The U.S. Embassy's Acting Deputy Chief of Mission Raymond A. Castillo personally greeted the students at the orientation.
"The United States has a long tradition of embracing international students," he noted. "While it seems obvious that you are gaining a life-changing experience, it is actually a two-way street. We in the USA also gain so much from your examples of hard work and dedication to your studies, as well as your willingness to share Pakistani culture with us."
USEFP Executive Director Rita Akhtar encouraged the students to take full advantage of the academic, extracurricular, and community service activities available in the United States.
"Global UGRADs are selected on merit from thousands of applicants from every part of Pakistan. In many cases, they are the first person from their locality ever to travel to the United States. American students also learn a lot about Pakistan through this exchange. We hope you meet a lot of interesting people on your adventure and that you share your U.S. experiences widely when you come back home," said Akhtar.
The Global UGRAD program provides emerging student leaders from diverse communities across the country the opportunity to attend U.S. academic institutions for a semester of non-degree academic study. Since the program launched in 2010, approximately 2,391 Pakistani students have received this prestigious scholarship.