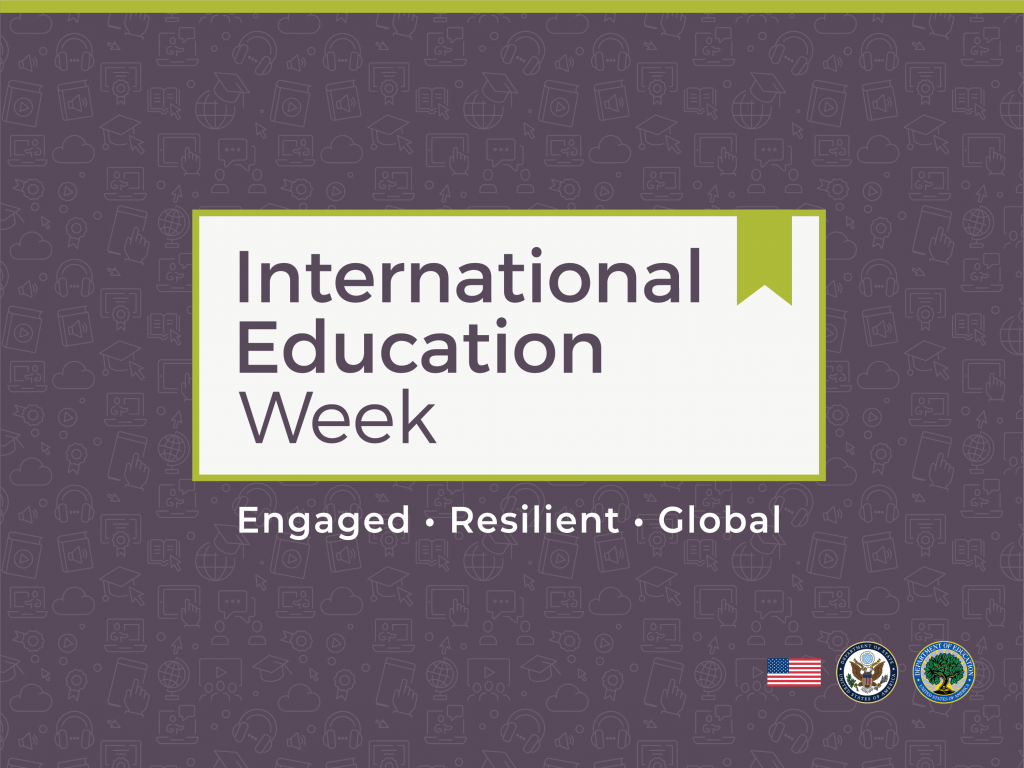 Despite the non-traditional circumstances of programming this year, EducationUSA Pakistan celebrated International Education Week (IEW) 2021 with as much enthusiasm and fervor as previous years.
High Achievers' and Counselors' Recognition Ceremony
The week kicked off with a ceremony to applaud the outstanding academic and extra-curricular achievements of 221 Pakistani students from 22 cities. Students were nominated by 79 high school counselors from 78 different schools. There was also an added twist: student profiles were submitted to 20 participating U.S. higher education institutions (HEIs) beforehand, who then screened these profiles and granted admission and scholarship offers. This tangibly demonstrated how higher education in the United States is well within reach.
The virtual event began with opening remarks by the Consul General Lahore, William Makaneole. Counselors won awards in three categories: Students' Choice Award, Most Promising Counselors, and Counselors of the Year. The session was wrapped up with closing remarks by Katherine Aziz, Manager of EducationUSA Pakistan Advising.
The ceremony was attended by students, parents, EdUSA Pakistan and USEFP staff, and U.S. Embassy officials.
Dramatic Reading Competition
IEW programming included a reprisal of an old favorite, the Dramatic Reading Competition, this time with a virtual format and a new addition to the target audience – undergraduate students. High school and university students had the opportunity to show off their creativity and theatrical skills with the performance of an original or pre-existing work. The competition called for students to share their dramatic reading renditions through YouTube videos. Students used their voice, intonation, expression, and emotion to breathe life and personality into their performances, which ranged from song lyrics and famous poetry to original pieces.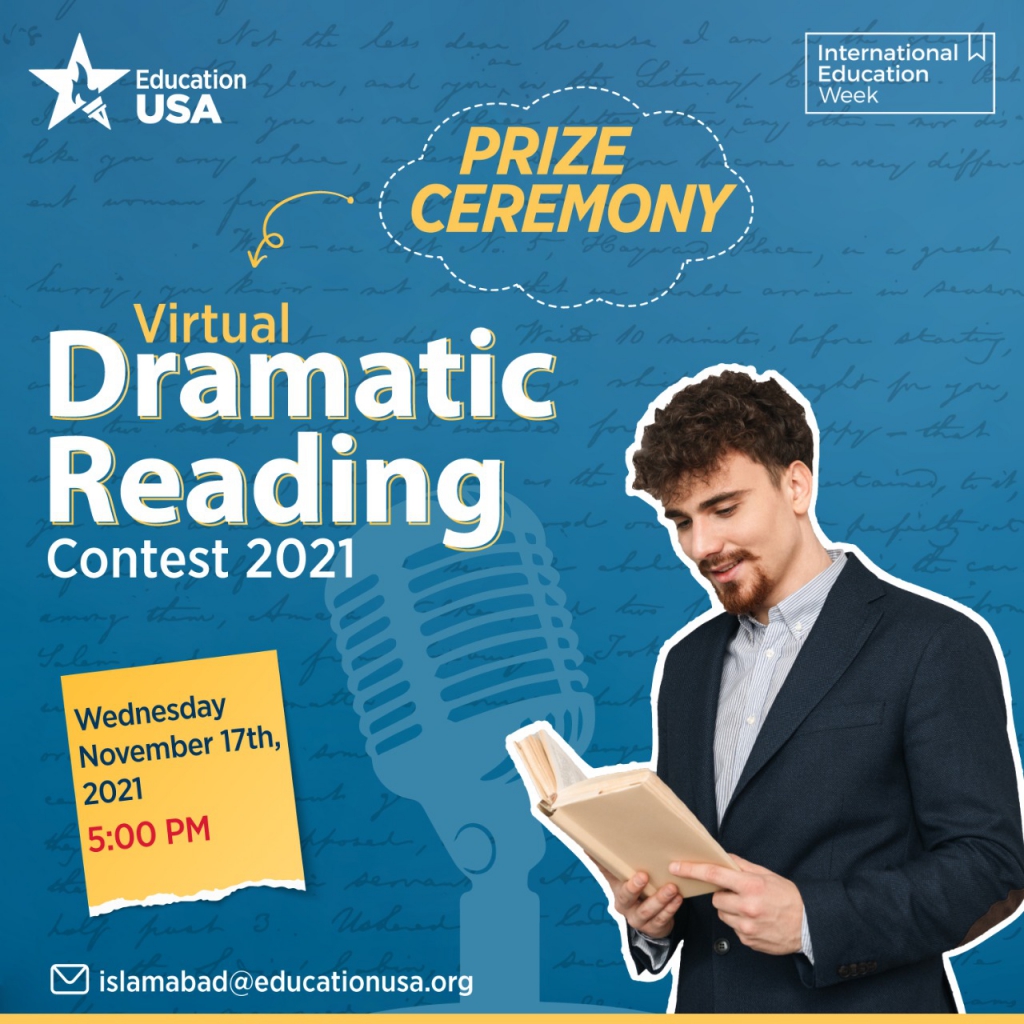 EducationUSA Pakistan received over 200 entries with three winners each in the Urdu and English categories bagging exciting prizes. Results of the competition were announced during the online event on November 17 which featured visual artist and theater practitioner, Ms. Asma Mundrawala, as a special guest speaker. The event also showcased the top six videos and winners, and judges shared their remarks. Around 60 students participated in the virtual session.
Ask the Right Questions!
IEW celebrations continued with a collaboration between EducationUSA Pakistan, EducationUSA Nepal, and nine U.S. colleges and universities for a webinar titled 'Ask the Right Questions!'. Primarily targeting high school students, the session was based on a virtual game format, where the audience interaction helped tackle key questions that students should be asking when applying to the U.S.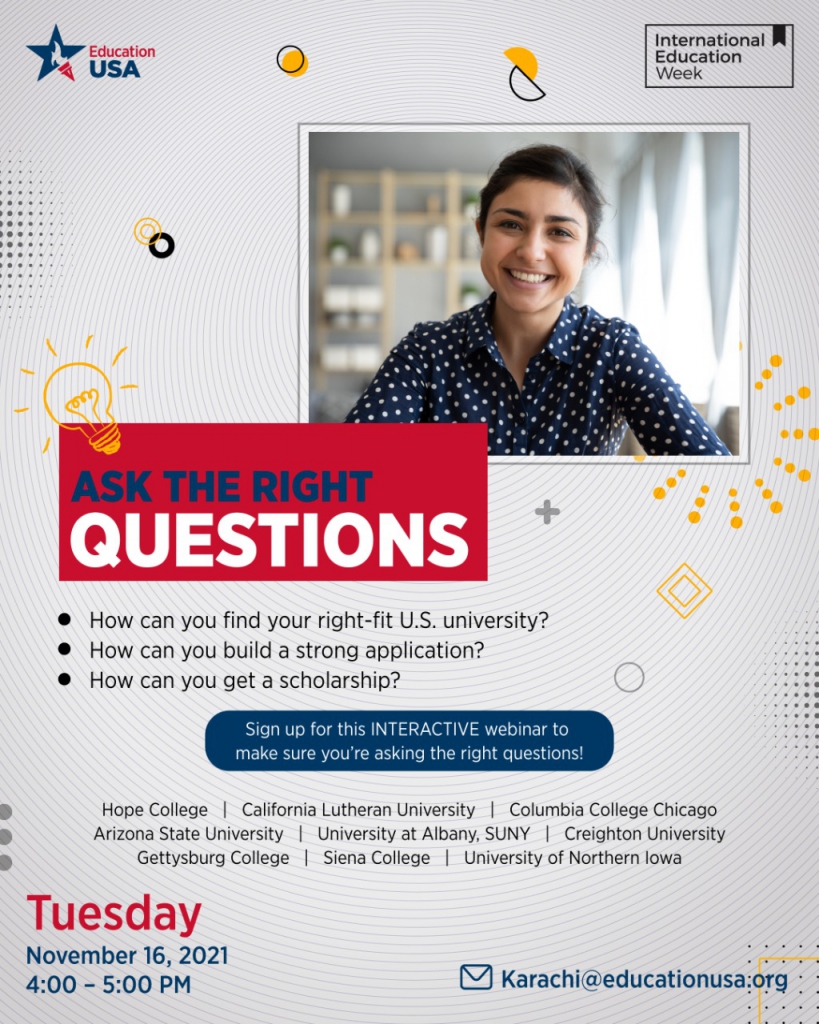 The session covered a broad array of topics ranging from researching options, financial aid and scholarships, to writing a winning college essay and understanding CPT and OPT. The participating U.S. universities were Hope College, California Lutheran University, Columbia College Chicago, Arizona State University, University at Albany SUNY, Creighton University, Gettysburg College, Siena College, and University of Northern Iowa.
This was the first time that EducationUSA Pakistan and Nepal joined forces to celebrate IEW. In an atmosphere where in-person events and large gatherings are off-limits, Pakistan and Nepal managed to extend their reach beyond borders, enriching the week's work as a whole.
EducationUSA Filminute
For the Filminute contest this year, more than 50 high school students from across Pakistan made and submitted minute-long films based on the following theme: 'If these walls could talk'. A panel of judges, led by Professor Piero Basso from the New York Film Academy, screened the entries and picked the top ten films. During the virtual awards ceremony held on November 18, Professor Basso commented on the "remarkable maturity" with which the participants highlighted social issues in Pakistan and the "raw, but intense" nature of the films. The top three winners were awarded cameras and seven participants received distinctions in screenplay, direction, sound, and other categories.
Panel discussion
And finally, IEW celebrations concluded with a high-profile virtual session jointly organized by EducationUSA Pakistan and the United States Embassy in Islamabad. The objective of the session was to apprise the participants about the importance of international education.
Minister Counselor for Public Affairs Ray Castillo shared opening remarks. This was followed by a panel discussion between Dr. Ishrat Hussain, former governor of the Central Bank of Pakistan, USEFP Executive Director Rita Akhtar, Global UGRAD alumna Maryam Noor, and Fulbright alumni Humzah Yazdani and Nimrah Shakeel.
The session was attended by students, heads, external relation managers and faculty members of degree-awarding institutions in Pakistan. It was shared live on multiple social media platforms and drew in a large audience. The topics discussed included the diversity in curriculum through international education, supporting learning of students from diverse backgrounds, and brain drain in Pakistan.