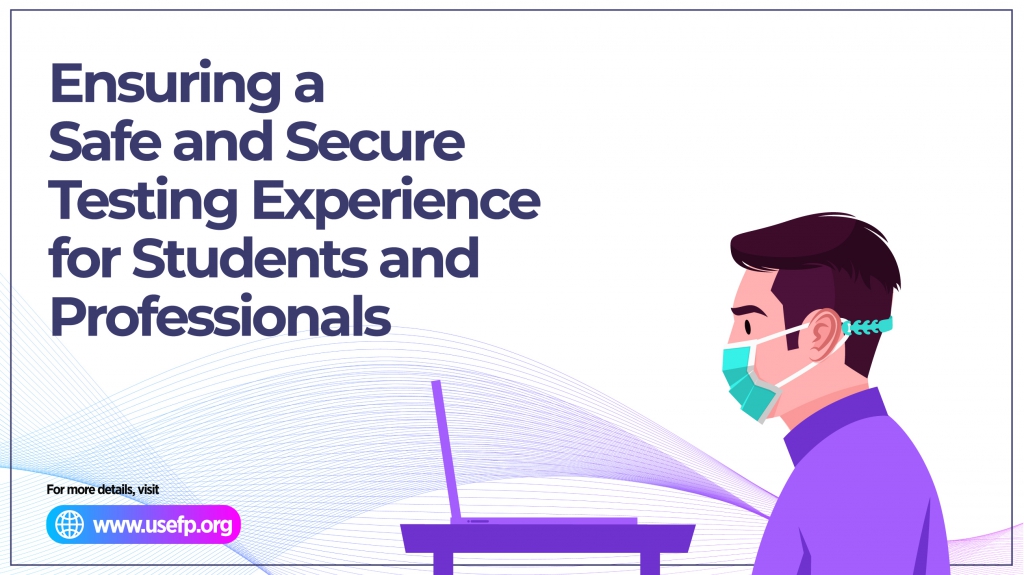 For USEFP, the health and safety of our staff, stakeholders, and test takers has always been the top priority – and as we continue to make our way through the pandemic, this remains as true as ever. In fact, even more so. Despite the challenges brought on by Covid-19, our testing department has gone above and beyond to make sure that the stringent safety protocols developed in 2020 are resolutely adhered to this year as well.
That's why this quarter has seen a full examination schedule at our three test centers – Lahore, Karachi and Islamabad – which boast state-of-the-art test labs. The tests being conducted include the GRE General, TOEFL IBT, GMAT, RCPCH, and CFA-Level 1.
No stone left unturned
 So, on a regular day, what does the implementation of the Covid-19 safety plan look like?
The use of a face mask is mandatory for everyone while they are within the premises of our test centers.
Our test center administrators are armed with protective equipment and sanitizing materials in line with official requirements.
A candidate's access to and from our test centers is always controlled to respect social distancing.
The number of candidates present for a particular session does not exceed the officially permitted capacity of our test centers.
Staff and visitors are advised to regularly sanitize their hands by using the strategically placed sanitizing stations around the premises.
Our test centers have been equipped with a highly efficient air vent system to ensure circulation and filtration of fresh air within the testing labs.
These measures are based on the guidelines of the World Health Organization, the Center for Disease Control and Prevention, and Pakistan's National Command Operation Center. Moreover, the safety plan was drafted in collaboration with our testing partners Prometric, Pearson VUE, ETS, and College Board.
Examinations and testing services are a critical part of the higher education process, and the testing department's ability to keep our labs running safely is a source of pride and gratitude.