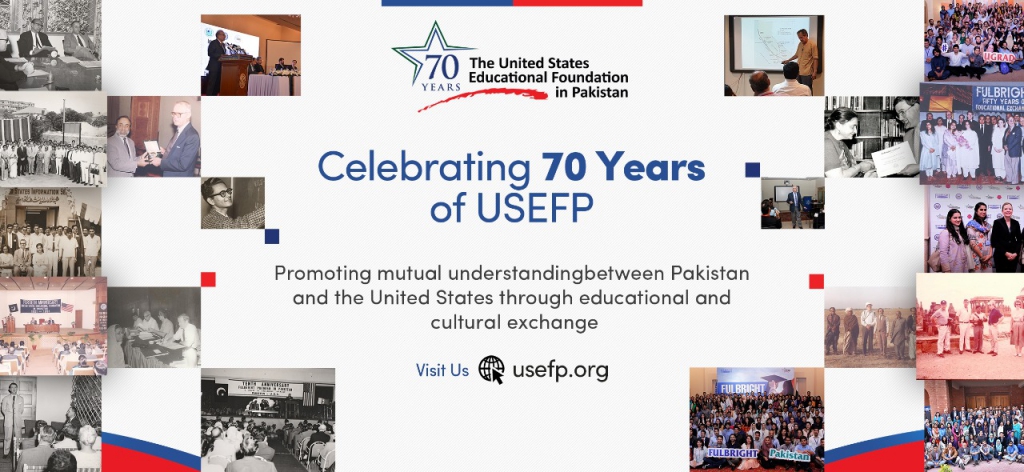 USEFP celebrated its 70th anniversary on September 23, this year. Although the extensive festivities planned for the occasion were somewhat dampened by Covid-19 and social distancing restrictions, the milestone was celebrated with fervor through various online activities.
Established in 1950 by the governments of Pakistan and the United States, USEFP is one of the 49 Fulbright Commissions located throughout the world. Through educational and cultural exchange programs, USEFP provides opportunities to Pakistanis to study, research, and engage with international students and scholars in the United States. Today, its alumni are finding solutions to shared global concerns and gaining leadership expertise to advance Pakistan's development.
To mark the occasion, USEFP social media pages ran an online campaign, with the hashtag #USEFP70, sharing the origin of the bi-national commission in Pakistan, its history, and important milestones. USEFP Executive Director, Rita Akhtar, addressed audiences with a message, thanking both the U.S. and Pakistani governments for their contribution, and emphasizing the transformative impact of the program. An article titled Celebrating 70 Years of Educational and Cultural Exchanges between Pakistan and the United States was also published in Daily Times and The News.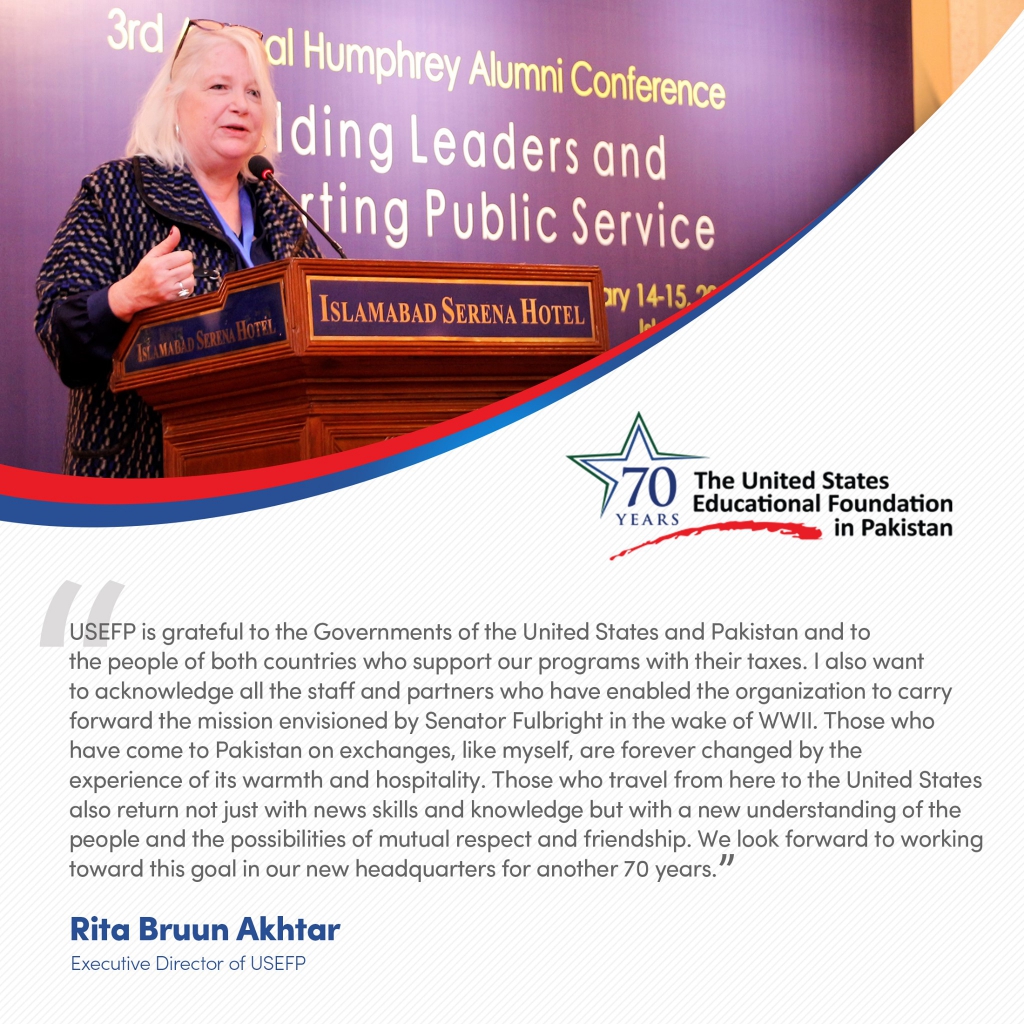 Subscribers were reintroduced to the services offered by USEFP including its scholarship programs, EducationUSA centers, test-prep initiatives, and testing centers through social media posts and infographics. The impact of the program was highlighted by sharing that since 2005, more than 6,000 Pakistanis from diverse backgrounds have participated in USEFP managed educational and cultural exchange programs to gain knowledge and expertise. Similarly, the Test Preparation Initiative started in 2012 has reached 110,000 students through Fulbright orientations and around 60,000 students through the GRE workshops across Pakistan. These students belong to the underserved, public sector universities in the country, including those in remote regions of Sindh, Balochistan, Gilgit-Baltistan, KP, Punjab, and Kashmir.
The campaign took viewers on a trip down memory lane with memorable pictures of past events such as the 10th anniversary celebrations in 1962, attended by the former President of Pakistan, Mohammad Ayub Khan, and former Deputy Chief of Mission (DCM) American Embassy, William O. Hall.
USEFP also shared testimonies from senior Fulbright and Humphrey alumni, who have made important contributions to Pakistani society since their return to Pakistan. These included Surriya Shuja Qazi (Northwestern University), Justice (R) Nasira Javed Iqbal (Harvard University), Prof. Dr. Najma Najam (Bowling Green State University, University of Pittsburgh), Prof. Amanullah Khan (Carnegie Mellon University), Shafqat Mehmood (Harvard University), Dr. Shamshad Akhtar (Harvard University), and Prof. Dr. Hasan Askari Rizvi (University of Pennsylvania).
Short video testimonials were also shared on USEFP's YouTube page, including those from distinguished educationists, Chairperson HEC, Tariq Banuri, former Dean IBA Karachi, Dr. Farrukh Iqbal. Both of them praised USEFP's role in encouraging educational exchange between Pakistan and the United States. Other video messages featured Fulbright and Humphrey alumni, including Vice Chancellor SBBWU, Peshawar, Prof. Dr. Razia Sultana, Vice Chancellor Peshawar University, Prof. Dr. Muhammad Asif Khan, and founder of Akhuwat, Dr. Amjad Saqib.
For more information on USEFP's operations and latest news, please visit our website, Facebook, Instagram and Twitter pages.