This quarter saw the end of the academic year, which meant many happy graduation stories. As our Pakistani students in the United States donned their graduation robes and caps, we celebrated with them in spirit.
Here are some graduation stories from our newly minted Fulbright alumni:
Mahwish Khan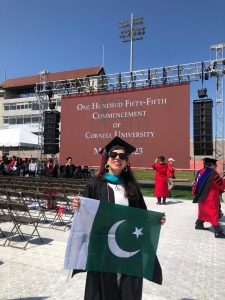 Khan graduated from Cornell University with an MPA (Master of Public Administration) degree and a certification in Systems Thinking Modeling and Leadership.
"The opportunity provided by Fulbright has allowed me to study, learn, and make friends from around the world. These two years have enriched me academically and provided me with platforms to showcase my leadership abilities," she said, reflecting on her Fulbright experience.
During the program, Khan also interned at DeftEdge and the International Finance Corporation.
Shahan Ahmed Khattak
Dressed in traditional attire with a turban wrapped around his head, Shahan Ahmed Khattak graduated from Rutgers University last month. Ahmed, who completed his MCRP (Master of City and Regional Planning) degree, embarked on the exchange journey with the goal of enhancing urban planning in Pakistan. He is now excited to make his mark in Pakistan.
Kainat Shahid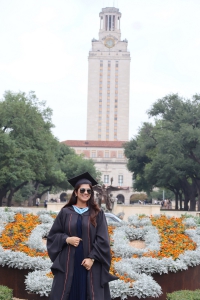 Shahid graduated with a Master's in kinesiology from the University of Texas at Austin.
"From navigating unfamiliar landscapes to embracing intellectual growth, my remarkable Fulbright adventure challenged and shaped me in ways I could never have imagined. It was a journey of discovery, collaboration, transformation, and personal growth, leaving an indelible mark on my academic and professional trajectory. Through Fulbright, I immersed myself in a vibrant tapestry of cultures, embracing diversity, fostering mutual understanding, and creating lasting global networks," she said.
Hajira Baig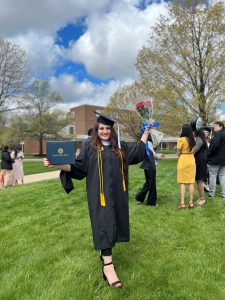 Baig completed her Master's in health psychology from the University of Michigan-Dearborn.
"My program made me live, love, and connect with a world beyond languages and boundaries," she said. "It served as a profound lesson in the lasting impact that exchanges can have, igniting a transformative journey in both my personal and professional life."
Mahrukh Khan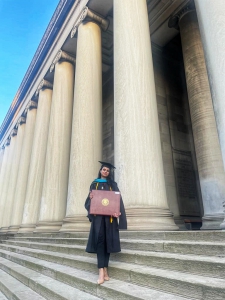 Khan earned her MSPPM degree (Master of Science in Public Policy Management) with a distinction from Carnegie Mellon University.
"Graduating with a Master's from one of the leading graduate schools in the United States was a far-fetched dream that became a reality because of Fulbright. The two years I spent as a Fulbrighter were transformative in many ways; I connected with some of the most brilliant individuals from across the globe, forging friendships that I will cherish forever. Being a part of the Fulbright network is a privilege and an honor," she shared.
Ranjeeta Mahraj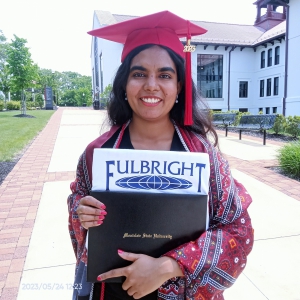 Mahraj graduated from Montclair State University (MSU) with a Master's degree in applied linguistics.
"I am grateful to the Fulbright Program for giving me the opportunity to pursue a graduate degree in a field that I am passionate about. At MSU, I learned about independence, confidence, leadership skills, time management, and cultural diversity. And now, I am super excited to begin my professional journey here in Pakistan," she said.
Fozia Memon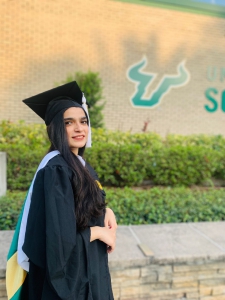 Memon also completed her Master's in applied linguistics from the University of Southern Florida (USF) and bagged the USF Golden Bull Award 2023 – a distinction granted to students who demonstrate exceptional academic performance, leadership qualities, and a commitment to service.
"The Fulbright journey has been a catalyst for personal growth and academic advancement. Through the program, I was able to immerse myself in a vibrant academic environment, engage with renowned professors and scholars, and collaborate with exceptional peers from diverse backgrounds," she said.
Congratulations to all our graduates!